IIEP's training pursues new avenues
IIEP's global training offer develops the capacities of professionals to design and manage education systems. To advance a more comprehensive and inclusive approach to planning, IIEP is increasingly training professionals working across an education administration –from local to central levels– and partners. This new emphasis supports countries with the implementation not only of central education plans, but district and local ones as well. A new methodology was also created in 2020 to assess the capacities of national training providers –an important tool that will help IIEP strengthen its strategies to support in-country training offers.
In 2021, the Institute's Regional Training Programme on Education Policy and Management in Latin America trained authorities from 19 Member States in the region, and three countries from Lusophone Africa, representing an important achievement in boosting South-South cooperation in educational planning. For the first time, this programme was also adapted to meet the specific needs of officials working in Argentina's 24 provincial ministries of education. This successful pilot can now be replicated in other countries in the region. In Africa, IIEP launched a training course on Management of technical and vocational education and training (TVET) systems in 2021 and organized the 15th session of the Sector Policy and Education System Management course, which has now welcomed some 450 professionals from 22 African countries since 2007.
More than 425 professionals trained in Latin America in 2020 and 2021
TVET training for 37 participants in 7 countries in Africa
National training centres in Afghanistan, Cambodia, Caribbean, and Madagascar supported
Harmonizing operational education plans across Haiti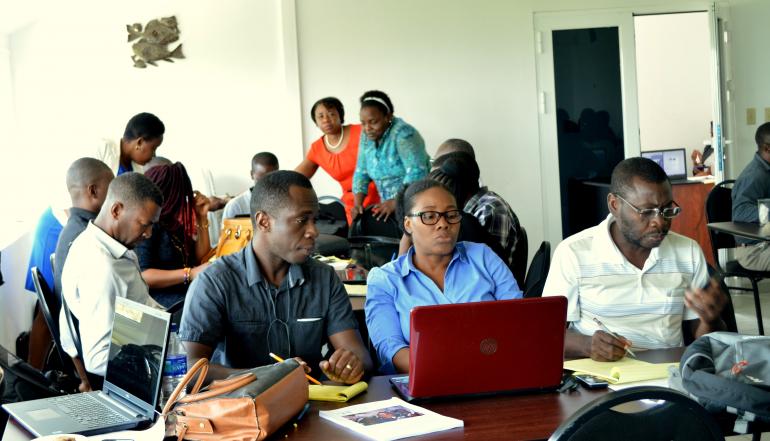 IIEP-UNESCO/James Logiste
For the first time, each one of Haiti's 10 administrative divisions has its own education sector diagnosis, a major accomplishment which is enabling the creation and harmonization of annual operational plans at the local level. The diagnoses highlight a range of education challenges, such as disparities between rural and urban settings and between public and non-public schools. Part of a multi-year programme with funding from the European Union, this project aims to empower local education officials to take on a larger and more autonomous role in planning and managing Haiti's education system. This is an invaluable exercise as Haiti continues to confront major challenges such as COVID-19 and the August 2021 earthquake.
On-the-job coaching for 70 officials
Online course for 150 education officials
Greater coordination across all administrative levels
Combined training and technical cooperation to boost impact
Cities and Education 2030
Cities are a key actor for advancing the global goal of equitable and quality education and lifelong learning for all. Increasingly, cities of all sizes are taking on more responsibility in providing educational services. IIEP's research first started in France, where it studied how four French cities co-designed and implemented the provision of local education. Now, these cities are using IIEP's policy recommendations as a roadmap to refine the implementation of their education strategies. In 2021, this research entered an international phase with new partnerships in new cities including Dhaka and Khulna (Bangladesh), Medellin (Colombia), Manila (Philippines), and Kigali (Rwanda). Each city will benefit from a complete diagnosis of its education strategy, and benefit from a global network of cities worldwide.